Thank you to all who took the time to join the party! Each one of you are a winner.
Adelle had her daughter pick the names for the prizes, so here it goes...DeNita wins Notebook, Anna wins Calendar magnet, flche1 wins Mouse Pad, Nessa wins Calendar magnet, Terry Kate - Calendar magnet, LIsa wins Hat
Congrats to you all. If you could send Adelle your snail mail addy, she'll get those prizes out to you asap. Thanks again for helping her celebrate the release of Triad of Hope.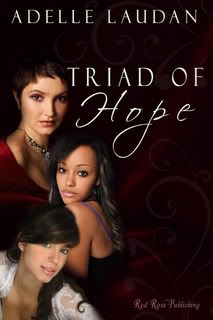 Contemporary, Inspirational, Interracial/Multicultural
You'>You'>http://redrosepublishing.com/bookstore/product_info.php?products_id=625">You can purchase Triad of Hope at Red Rose Publishing